Important information : we are going virtual
The University center of legal medicine Lausanne-Geneva is honored to organize the 25th triennial meeting of the International Academy of Legal Medicine. Twelve years after the congress was held in Lisbon, the main scientific event of the Academy comes back to Europe.
From tradition to innovation is the slogan we chose for this event.  Like Janus, Switzerland has two faces, the one looking to the past, the other to the future. The picturesque country of people living in the Alps, climbing to the mountain pastures, drinking milk and eating cheese and chocolate cohabits with that of the financial security, excellent quality of life, outstanding research and technology.
This dichotomy will be the leitmotif of this congress. Traditional sessions with poster and oral presentations will be dedicated to the classical forensic pathology, anthropology, toxicology, genetics, medical law and ethics. Workshops and sessions will be dedicated to the recent advances in forensic imaging and all the newest trends in our discipline. The support and participation of the Forensic unit of the International Committee of the Red Cross and other Humanitarian Organisations will give us the opportunity to tackle the issue of the forensic humanitarian action.
We are looking forward to welcoming you in June 2021 for this event,
Made in Switzerland!
Silke Grabherr and Tony Fracasso
Presidents of the Congress 
Open cermony and welcome activity of the 25th triennial meeting of the International
Academy of Legal Medicine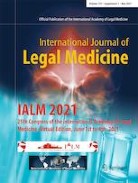 International Journal of Legal Medicine
Volume 135, supplement issue 1, May 2021
25th Congress of the International Academy of Legal Medicine, Virtual Edition, June 1st to 4th, 2021